3 Lamp Series Ballast Wiring Diagram (2 Ballasts)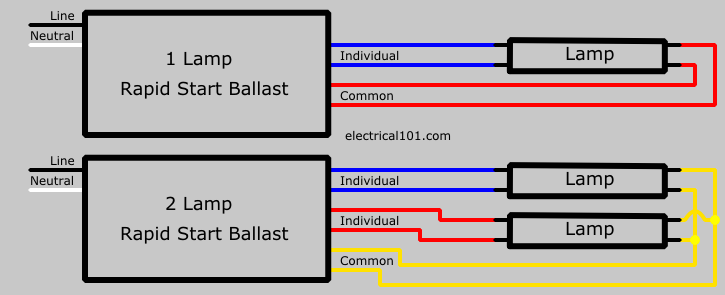 One 2 lamp and one 1 lamp ballast
3 Lamp Series-Parallel Ballast Wiring Diagram

If one lamp fails or is removed in the series connected section, then all lamps in that section will turn off, but the lamps in the parallel circuit remain on.
1 to 3 lamps
Series Ballast Wiring Diagrams
Series ballasts use two wires for individual and common connections to the pins at each end of a fluorescent tube. With series wiring using a non-shunted lampholder, each side of the lampholder is isolated from the other side.
Series ballasts usually provide power to just two lamps (two ballasts are needed in a fixture to power four lamps). Series ballasts have two sets of two individual wires that connect to each lamp, and two common wires that are connected to the other end of both lamps. One common wire connects to one pin of both lamps, the other common connects to the other pin of both lamps. When one lamp fails the other on that ballast will not light. Generally, rapid start, programmed start, and dimmable ballasts are wired in series.

2 Lamp Series Ballast Wiring Diagram
4 Individual wires, 2 common wires
1 Lamp Series Ballast Wiring Diagram

3 Lamp Series Ballast Wiring Diagram

6 Individual wires, 2 common wires