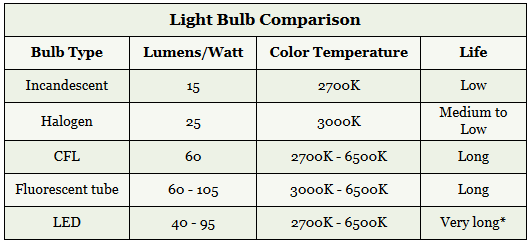 Light Bulb Watts
Watts refers to the amount of power that is used to operate a light bulb (volts * amps). The wattage rating is usually labeled on a bulb and package. Light fixtures usually specify the maximum wattage allowed for a bulb. Never exceed the wattage rating of a light fixture.
Light Bulb Lumens
Lumens is a measure of light produced from a light source. When buying a light bulb, don't look for wattage, look for lumens. See the "Lumens Chart for Incandescent Bulbs" below for light output compared to incandescent bulbs. CFLs and LEDs usually have a slightly lower lumens rating than an equivalent incandescent bulb, but will seem just as bright because of a higher color temperature.
A light bulb with the same lumens rating and a higher color temperature, will seem brighter because of the whiter color.