2 Lamp Rapid Start Ballast
Factory wiring
How to Replace 2 Lamp Series Ballast with Parallel 2
These diagrams show a variation of 2 lamp series ballast wiring one of our readers encountered.
A 2 lamp series magnetic ballast should be replaced with a 2 lamp T8 parallel electronic ballast. Each lampholder has four separate connections.
Connect each of the individual blue wires from the parallel ballast to each pair of the lampholder individual wires (red and blue).

Connect the common red wire from the parallel ballast to the yellow, blue, and red wires of the common lampholders. A blue wire connector can be used to connect these four 18 AWG wires together. However, a larger orange wire connector would be a better choice if available.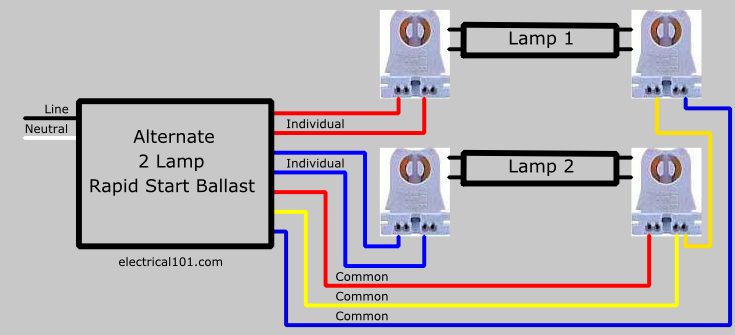 After 2 Lamp Rapid Start Ballast is Replaced with Instant Start