A halogen bulb is similar to an incandescent bulb, but it is a very small bulb that contains a halogen gas. Unlike CFLs, they turn on instantly. These bulbs operate at very high temperatures so be careful you don't burn your fingers when handling a bulb that has been on. They use 10-20% less energy than incandescent bulbs.
Halogens do not contain mercury so they do not need to be recycled. They offer a full dimming range. Dimming certain types of halogen bulbs can shorten the life of the bulb. If you would like to use a dimmer, use a halogen bulb that is rated for dimming (look for "dimmable" on the package).
Halogen bulbs are available in 120 volts, 24 volts, and 12 volts. 12 and 24 volt bulbs need a transformer to transform line voltage to the lower voltage. Unfortunately, the life span can be medium to short and they are not as efficient as CFLs and LEDs.
Halogen bulbs have a soft color temperature and are popular for track lighting especially in restaurants, art galleries, and various shops. MR16 halogen bulbs are very common in Europe in both recessed and track lighting.
Most automotive headlights use halogen bulbs. While halogen bulbs in general have a soft color temperature (about 3000K), automobile halogen headlights are available in a wide range of color temperatures.
Touching halogen bulbs (not enclosed inside another bulb) with bare fingers can cause premature bulb failure. If you do, clean the bulb with alcohol.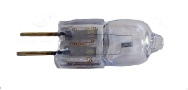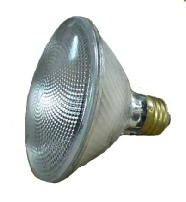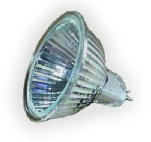 * Automobile halogen headlights have a full range of color temperatures available.