Electrical safety is most important. Practicing proper electrical safety will greatly reduce the chance of electrocution or fires. No one wants to be the one responsible for a fire, serious injury, or death because of improper electrical work or safety.

Electrical work should only be done by a qualified person. If a person wants to do electrical work, they should get hands-on training from an accredited school. Check your local school district, junior college, or private trade school.
The average home circuit is rated for 15 or 20 amps. About 50 milliamps (.05 amps) is all it takes to cause a heart to stop. An electrical shock will happen when a person touches anything hot (wire, device, or enclosure) and any other part of the body that is grounded in any way.
Electrical Safety Tips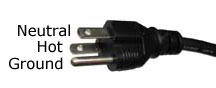 Keep jewelry (bracelet or necklace) away from a receptacle while plugging or unplugging a load. See photo below to see what happened to the plug when a student unplugged a microscope. Her bracelet touched the line and neutral pin and created a short circuit and arc flash. See burn mark below from bracelet contacting the line and neutral pins.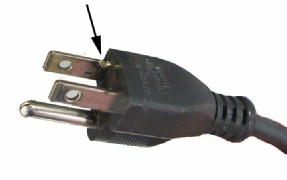 Whenever a person works on anything electrical, they must

turn off power

and make sure it

stays off

. A person doesn't want to turn off power to work on something, and have someone else turn it back on. Electricians are supposed to use a lockout/tagout system when working on a circuit. Lockout/tagout means the circuit breaker is locked in the "off" position along with a tag that indicates who has locked the circuit.
Light Fixture Wattage Rating
Light fixtures usually specify the maximum wattage allowed. Never exceed the wattage rating of a light fixture.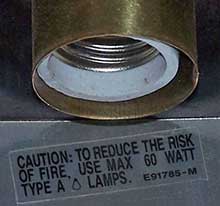 For more information go to www.osha.gov and search for "electrical safety".