How to Replace a Ceiling Light Fixture
How to Replace a Ceiling Mounted Light Fixture
Replacing a ceiling mounted fixture is fairly simple, and can be done with screwdrivers (flat and/or phillips). Power needs to be turned off at the electrical panel. A shop light (might need extension cord) or headlamp will be needed. The new light fixture kit should contain mounting screws and wire connectors.
Power needs to be turned off at the electrical panel.

The screws that hold the cover to the base are loosened and the cover is removed. Since the cover is probably made of glass, care should be taken not to drop it.

After the bulb is removed, the screws that hold the fixture to the electrical box are loosened, but not all the way out. The screws are loosened enough to rotate the cover so it can be removed.

The wires from the electrical box are disconnected from the fixture wires.
The instructions are reversed to mount the new fixture. The wire connectors that came with the new fixture should be used to connect the wires together from the electrical box to the fixture.
Chandeliers
A chandelier has a chain and an outlet cover. The electrical cord passes through the chain. If the ceiling electrical box is not over the desired location of the chandelier, the chain can supported by a hook that is fastened to the ceiling. This hook is placed over the desired chandelier location. The cover is fastened to an electrical outlet box above the ceiling.
Ceiling Mounted Light Fixture
Ceiling mounted fixtures are mounted directly to an electrical outlet box that is above the ceiling. This fixture can only be placed directly under the outlet box. This type of fixture has a base and a cover. The base mounts to the electrical box and contains the wiring and bulb socket(s). The cover is usually made of glass, and attaches to the base with three screws.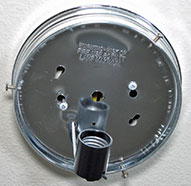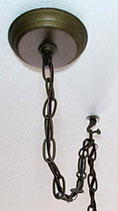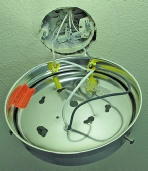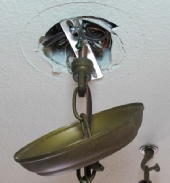 Replace a Ceiling Light Fixture